About us - meet our core players
Dorota

Dorota Swart was born in Poland and started playing the violin at age 6. She is currently performing full time with the Johannesburg Philharmonic Orchestra and enjoys playing chamber music with fellow musicians. After completing her BMus degree at the University of Stellenbosch under Suzanne Martens, she went on to complete Post Graduate Diplomas in Performance at the Royal Northern College of Music in Manchester with Chris Rowland as well as the University of Cape Town with Farida Bacharova. During her time at university she received master classes from Daniel Rowland, Arjan Tien, Irina and Michael Tseitlin and Vanya Milanova to name a few. She also attended the International Chamber Music Festival in Stellenbosch as well as in Viana do Castelo, Portugal. She has played for Chamber Orchestra of South Africa, Johannesburg Music Initiative and Johannesburg Festival Orchestra as well as Camerata Tinta Barocca and Cape Town Philharmonic Orchestra. As a professional orchestral musician, she has performed in a range of stage productions including ballets, operas, musicals and symphony concerts - most recently sharing the stage with Joshua Bell. She currently teaches violin at Oprah Winfrey Leadership Academy for Girls and has also taught at Kingsmead College as well as Springfield Convent during her time in Cape Town.
Sonja

Sonja Bass was born in Durban and studied the piano and recorder from an early age. She began cello lessons at the age of 10 with Olive Inglis and at 14 started lessons with Nigel Fish. Whilst in her matric year and during her 1st year at Natal University Sonja was invited to play regularly as a cadet with the KZNPO and the following year she became a full time member. During her time with the KZNPO (1989 - 1995) Sonja also held the position of principal cellist with the Pietermaritzburg Philharmonic Orchestra and taught for the (former)Natal Education Department. After moving to Johannesburg in 1995 she worked as a freelance cellist and played for the National Symphony Orchestra and was appointed their Stage Manager. In 1999 she joined the Buskaid Soweto String Project as its administrator and later became Buskaid's primary cello and double bass teacher to this day. Through her association with the Buskaid organisation and under Rosemary Nalden's guidance Sonja gained extensive knowledge in the use of the UK pedagogue Sheila Nelson's Essential String Method of Teaching. Sonja is a full time member of the JPO, manages the JPO's Education and Development portfolio and JPO Academy, trains the Academy Orchestra and conducts all JPO schools' performances. She also conducts the JPO at their annual Youth Concerto Festival and conducted the JPO in the SABT's production of 'The Sleeping Beauty' in October 2011.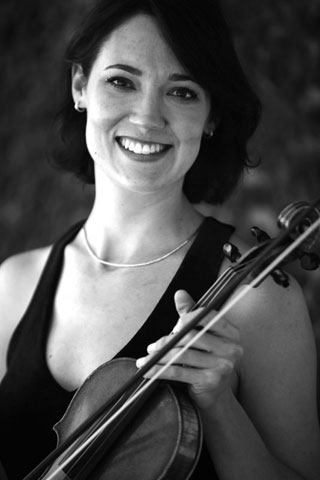 Ginger

Ginger Neff began the violin at the early age of 3. She had her solo debut at the age of 16 with the Shreveport Symphony Orchestra in the United States, has given master classes across the United States, Colombia and South Africa, and has played with many professional orchestras across the United States. Ginger earned her Bachelor's Degree in Violin Performance in 2000 from the University of North Carolina at Chapel Hill, where she studied with Dr. Richard Luby and was concertmaster of the university orchestra. She won the Landers Award and the SAI Graduate Performance Award, which provided full scholarship to earn her Master's in Violin Performance from Rice University, where she studied with Kenneth Goldsmith, and graduated in 2003. While studying at Rice, she was a founding member of the "Radiance Quartet," which was selected as the resident quartet for a program funded by the US National Endowment for the Arts. During that time she also played with several professional orchestras across Texas, was awarded Principal Second Violin of the Beaumont Symphony Orchestra (2003-2004), and occasionally substituted for the Shreveport Symphony Orchestra in Louisiana and the New World Symphony Orchestra in Miami, Florida. After moving to Johannesburg in 2004, Ginger joined the JPO and was awarded Principal Second Violin in 2006. In 2011, Ginger stepped down from her position at the JPO to spend more time with her family. She still enjoys playing in their first violin section, chamber music, teaching, giving master classes, soloing, and playing with various orchestras when visiting family in the United States.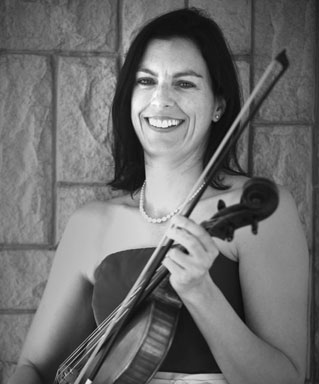 Andrea

After completing a B.Sc. (Zoology) at UCT, Andrea Erasmus received a CAPAB music bursary to study for the Postgraduate Diploma in Music in Performance with Prof. Jurgen Schwietering at the UCT College of Music. As a student she played in the Cape Town Symphony, CAPAB and German Bachchor Mainz orchestras. She was a member of the South African National Youth Orchestra from 1988-1994, and was principal viola in 1992. She has been a member of the Johannesburg Philharmonic Orchestra viola section since 2003. Andrea was involved as a player and in orchestra management from 1996-2000 with the Eastern Cape Philharmonic Orchestra in Port Elizabeth, from 2000-2003 with the Free State Symphony Orchestra in Bloemfontein.